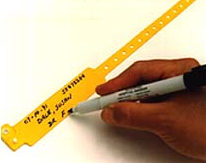 Precision Dynamics, Inc.

Write-on Bands -superband 5000
Superband - Made of non-stretch polyester with snap closure. Accommodates up to five lines of patient information. Special Allergy alert logo alerts medical staff to patient's special needs. Hospital marker included. Available in Adult, Adult/Pediatric, and Narrow sizes. Superband 5050: 3 7/8'' L x 1'' H Superband: blue-13, yellow-14, red-16, orange-17, green-22, lavender-23, cranberry-25
There is a $25.00 fee for orders less than $200.00 on this item.
| | | | | | | | |
| --- | --- | --- | --- | --- | --- | --- | --- |
| | Catalog Number | Description | Color | Packaging | Units Per Package | Price | |
| | 5052-13-PDJ | SENTRY SUPERBAND 5000 -- ALLERGY ALERT/ ADULT- NON-STRETCH POLYESTER, | BLUE | BX | 250 EA of 1 EA | $90.31 | Buy Now! |
| | 5052-14-PDJ | SENTRY SUPERBAND 5000 -- ALLERGY ALERT/ ADULT- NON-STRETCH POLYESTER, SNAP | YELLOW | BX | 250 EA of 1 EA | $90.31 | Buy Now! |
| | 5052-16-PDJ | SENTRY SUPERBAND 5000 -- ALLERGY ALERT/ ADULT- NON-STRETCH POLYESTER, SNAP | RED | BX | 250 EA of 1 EA | $90.31 | Buy Now! |
| | 5052-17-PDJ | SENTRY SUPERBAND 5000 -- ALLERGY ALERT/ ADULT- NON-STRETCH POLYESTER, SNAP | ORANGE | BX | 250 EA of 1 EA | $90.31 | Buy Now! |
| | 5052-22-PDJ | SENTRY SUPERBAND 5000 -- ALLERGY ALERT/ ADULT- NON-STRETCH POLYESTER, SNAP | GREEN | BX | 250 EA of 1 EA | $90.31 | Buy Now! |
| | 5052-25-PDJ | SENTRY SUPERBAND 5000 -- ALLERGY ALERT/ ADULT- NON-STRETCH POLYESTER, SNAP | CRANBERRY | BX | 250 EA of 1 EA | $90.31 | Buy Now! |
| | 5052-33-PDJ | SENTRY SUPERBAND 5000 -- ALLERGY ALERT/ ADULT- NON-STRETCH POLYESTER, SNAP | GRAPE | BX | 250 EA of 1 EA | $90.31 | Buy Now! |
| | 5072-13-PDJ | SENTRY SUPERBAND 5000 -- ALLERGY ALERT/ ADULT/PED- NON-STRETCH POLYESTER, SNAP | BLUE | BX | 250 EA of 1 EA | $88.05 | Buy Now! |
| | 5072-14-PDJ | SENTRY SUPERBAND 5000 -- ALLERGY ALERT/ ADULT/PED- NON-STRETCH POLYESTER, SNAP | YELLOW | BX | 250 EA of 1 EA | $88.05 | Buy Now! |
| | 5072-16-PDJ | SENTRY SUPERBAND 5000 -- ALLERGY ALERT/ ADULT/PED- NON-STRETCH POLYESTER, SNAP | RED | BX | 250 EA of 1 EA | $88.05 | Buy Now! |
| | 5072-17-PDJ | SENTRY SUPERBAND 5000 -- ALLERGY ALERT/ ADULT/PED- NON-STRETCH POLYESTER, SNAP | ORANGE | BX | 250 EA of 1 EA | $88.05 | Buy Now! |
| | 5072-22-PDJ | SENTRY SUPERBAND 5000 -- ALLERGY ALERT/ ADULT/PED- NON-STRETCH POLYESTER, SNAP | GREEN | BX | 250 EA of 1 EA | $88.05 | Buy Now! |
| | 5072-33-PDJ | SENTRY SUPERBAND 5000 -- ALLERGY ALERT/ ADULT/PED- NON-STRETCH POLYESTER, SNAP | GRAPE | BX | 250 EA of 1 EA | $88.05 | Buy Now! |