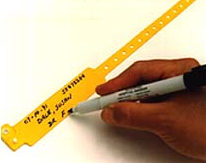 Precision Dynamics, Inc.

Write-on Bands - Speedi-band
Speedi-Band - Made of soft vinyl with snap enclosure. Accommodates up to five lines of patient information. Hospital marker pen included. Available in Adult, Adult/Pediatric, and Narrow sizes.
Speedi-Band 440: 4''L x 1'' H
Speedi-Band: white-11, blue-13, yellow-14, green-15, red-16, orange-17
There is a $25.00 fee for orders less than $200.00 on this item.
| | | | | | | | |
| --- | --- | --- | --- | --- | --- | --- | --- |
| | Catalog Number | Description | Color | Packaging | Units Per Package | Price | |
| | 420-11-PDM | SPEEDI-BAND*, ADULT/PEDIATRIC- SOFT VINYL SNAP CLOSURE, 5 LINES, MARKER INCLUDED | WHITE | BX | 500 EA of 1 EA | $197.73 | Buy Now! |
| | 420-13-PDM | SPEEDI-BAND*, ADULT/PEDIATRIC- SOFT VINYL SNAP CLOSURE, 5 LINES, MARKER INCLUDED | BLUE | BX | 500 EA of 1 EA | $197.73 | Buy Now! |
| | 420-14-PDM | SPEEDI-BAND*, ADULT/PEDIATRIC- SOFT VINYL SNAP CLOSURE, 5 LINES, MARKER INCLUDED | YELLOW | BX | 500 EA of 1 EA | $197.73 | Buy Now! |
| | 420-15-PDM | SPEEDI-BAND*, ADULT/PEDIATRIC- SOFT VINYL SNAP CLOSURE, 5 LINES, MARKER INCLUDED | GREEN | BX | 500 EA of 1 EA | $197.73 | Buy Now! |
| | 420-16-PDM | SPEEDI-BAND*, ADULT/PEDIATRIC- SOFT VINYL SNAP CLOSURE, 5 LINES, MARKER INCLUDED | RED | BX | 500 EA of 1 EA | $197.73 | Buy Now! |
| | 420-17-PDM | SPEEDI-BAND*, ADULT/PEDIATRIC- SOFT VINYL SNAP CLOSURE, 5 LINES, MARKER INCLUDED | RED | BX | 500 EA of 1 EA | $197.73 | Buy Now! |
| | 440-11-PDM | SPEEDI-BAND*, ADULT- SOFT VINYL SNAP CLOSURE, 5 LINES, MARKER INCLUDED | WHITE | BX | 500 EA of 1 EA | $201.09 | Buy Now! |
| | 440-13-PDM | SPEEDI-BAND*, ADULT- SOFT VINYL SNAP CLOSURE, 5 LINES, MARKER INCLUDED | BLUE | BX | 500 EA of 1 EA | $201.09 | Buy Now! |
| | 440-14-PDM | SPEEDI-BAND*, ADULT- SOFT VINYL SNAP CLOSURE, 5 LINES, MARKER INCLUDED | YELLOW | BX | 500 EA of 1 EA | $213.77 | Buy Now! |
| | 440-15-PDM | SPEEDI-BAND*, ADULT- SOFT VINYL SNAP CLOSURE, 5 LINES, MARKER INCLUDED | GREEN | BX | 500 EA of 1 EA | $201.09 | Buy Now! |
| | 440-16-PDM | SPEEDI-BAND*, ADULT- SOFT VINYL SNAP CLOSURE, 5 LINES, MARKER INCLUDED | RED | BX | 500 EA of 1 EA | $201.09 | Buy Now! |
| | 440-17-PDM | SPEEDI-BAND*, ADULT- SOFT VINYL SNAP CLOSURE, 5 LINES, MARKER INCLUDED | ORANGE | BX | 500 EA of 1 EA | $201.09 | Buy Now! |