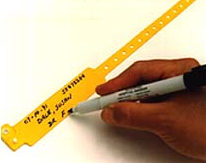 Precision Dynamics, Inc.

Write-on Bands - Safeguard Adhesive Alert Bands
Alert Bands - Write up to five lines of patient information. Information resistant to water, soap, and alcohol. Available in Adult and Adult/Pediatric sizes. Available in vinyl or Superband version. Allergy Alert - Made of latex-free, lightweight polyester with a snap closure. Special allergy alert logo alerts medical staff to patient's special needs. Includes hospital marker which resists water and alcohol. Two sizes available: Adult, Adult/Pediatric. Allergy Alert: 3 7/8'' L x 1'' H Allergy Alert: white-11, blue-13, yellow-14, red-16, orange-17, green-22, lavender-23, cranberry-25
There is a $25.00 fee for orders less than $200.00 on this item.
| | | | | | | | |
| --- | --- | --- | --- | --- | --- | --- | --- |
| | Catalog Number | Description | Color | Packaging | Units Per Package | Price | |
| | 824A-16-PDJ | SAFEGUARD ADHESIVE BANDS / ALLERGY ALERT ADULT/ PED WRITE-ON TRILAMINATE BAND | RED | BX | 250 EA of 1 EA | $81.72 | Buy Now! |
| | 825A-16-PDJ | SAFEGUARD ADHESIVE BANDS / ALLERGY ALERT ADULT, IMPRINTED, TRILAMINATE BAND | RED | BX | 250 EA of 1 EA | $96.41 | Buy Now! |