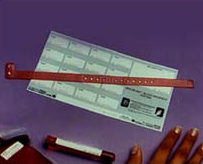 Precision Dynamics, Inc.

Securlink Blood Recipient System
The Securlink system links the patient, the transfused blood and all the related paperwork to assure safe and complete blood transfusion. The wristband is made of medical-grade plastic featuring a tamperproof SecurSnap fastener.
There is a $25.00 fee for orders less than $200.00 on this item.
| | | | | | | | |
| --- | --- | --- | --- | --- | --- | --- | --- |
| | Catalog Number | Description | Color | Packaging | Units Per Package | Price | |
| | 2136-00-PDJ | SECURLINK* BLOOD RECIPIENT SYSTEM- 250 BANDS ONLY | RED | BX | 250 EA of 1 EA | $85.16 | Buy Now! |
| | 2200-00-PDJ | SECURLINK* BLOOD RECIPIENT SYSTEM- 250 SECURLINK FORMS | ____ | BX | 250 EA of 1 EA | $316.33 | Buy Now! |
| | 2236-00-PDJ | SECURLINK* BLOOD RECIPIENT SYSTEM- 250 BANDS ONLY | RED | BX | 250 EA of 1 EA | $350.16 | Buy Now! |