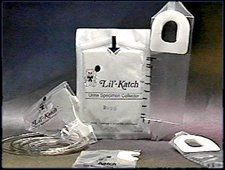 Precision Dynamics, Inc.

Pediatric Urine Collectors
Medically approved adhesive protects sensitive skin.
Versatile design provides a comfortable fit for infant or pediatric use, male or female.
Adhesive completely surrounds opening, assuring a leak-proof fit and a clean, usable urine specimen.
Enlarged foam area provides ease of application and comfortable fit, while keeping walls of collector open.
Available sterile or clean.
CAPACITY 7 fl. oz. 200 ml.
| | | | | | | | |
| --- | --- | --- | --- | --- | --- | --- | --- |
| | Catalog Number | Description | Size | Packaging | Units Per Package | Price | |
| | 05001-00-MCF | MARK-CLARK - PEDIATRIC URINE COLLECTORS -- CLEAN COLLECTOR, --- 7 FL. OZ., 200ml. | 0 | BX | 50 EA of 1 EA | $41.41 | Buy Now! |
| | 05001-00-MCM | MARK-CLARK - PEDIATRIC URINE COLLECTORS -- CLEAN COLLECTOR, --- 7 FL. OZ., 200ml. | 0 | BX | 500 EA of 1 EA | $332.50 | Buy Now! |
| | 05002-00-MCF | MARK-CLARK - PEDIATRIC URINE COLLECTORS -- STERILE COLLECTOR, --- 7 FL. OZ., 200ml. | 0 | BX | 50 EA of 1 EA | $69.30 | Buy Now! |
| | 05002-00-MCM | MARK-CLARK - PEDIATRIC URINE COLLECTORS -- STERILE COLLECTOR, --- 7 FL. OZ., 200ml. | 0 | BX | 500 EA of 1 EA | $513.20 | Buy Now! |