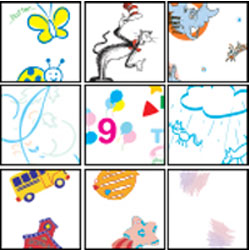 Tidi Products Llc

Pediatric Table Paper
Exam table barriers provide comfortable crepe surfaces, in widths that cover exam table sizes from pediatrics to bariatrics.
Printed Table Paper
A wide variety of convenient, high-quality products that offer comfort and protection on demand.
Smooth
Crepe
Prints
FEATURES:
Available in a variety of widths and roll lengths
Smooth or crepe (quiet, softness) materials
Adult and pediatric prints
Rolls and sheets
BENEFITS:
99.5% protection against bacteria pass-through
(independent tests)
Aesthetics and patient peace of mind.
| | | | | | | | |
| --- | --- | --- | --- | --- | --- | --- | --- |
| | Catalog Number | Description | Size | Packaging | Units Per Package | Price | |
| | 981414 | Specialty exam table paper-pediatric prints-14 in. crepe-bugs | 14 in x 125 ft | CA | 6 EA of 1 EA | $54.89 | Buy Now! |
| | 981418 | Specialty exam table paper-pediatric prints-18 in. crepe-bugs | 18 in x 125 ft | CA | 6 EA of 1 EA | $56.00 | Buy Now! |
| | 981421 | Specialty exam table paper-pediatric prints-21 in. crepe-bugs | 21 in x 125 ft | CA | 6 EA of 1 EA | $61.80 | Buy Now! |
| | 981514 | Specialty exam table paper-pediatric prints-14 in. smooth -bugs | 14 in x 225 ft | CA | 6 EA of 1 EA | $73.14 | Buy Now! |
| | 981518 | Specialty exam table paper-pediatric prints-18 in. smooth-bugs | 18 in x 225 ft | CA | 6 EA of 1 EA | $80.68 | Buy Now! |
| | 981521 | Specialty exam table paper-pediatric prints-21 in. smooth-bugs | 21 in x 225 ft | CA | 6 EA of 1 EA | $89.57 | Buy Now! |
| | 981618 | Specialty exam table paper-pediatric prints-18 in. crepe-under the sea-multi color | 18 in x 125 ft | CA | 6 EA of 1 EA | $50.53 | Buy Now! |
| | 981718 | Specialty exam table paper-pediatric prints-18 in. smooth-undert the sea-multi color | 18 in x 225 ft | CA | 6 EA of 1 EA | $72.58 | Buy Now! |
| | 981814 | Specialty exam table paper-pediatric prints-14 in. crepe-raining cats | 14 in x 125 ft | CA | 6 EA of 1 EA | $44.37 | Buy Now! |
| | 981818 | Specialty exam table paper-pediatric prints-18 in. crepe-raining cats | 18 in x 125 ft | CA | 6 EA of 1 EA | $50.53 | Buy Now! |
| | 981918 | Specialty exam table paper-pediatric prints-18 in. crepe-schooltime-red/yellow/blue | 18 in x 125 ft | CA | 6 EA of 1 EA | $54.81 | Buy Now! |
| | 982018 | Specialty exam table paper-pediatric prints-18 in. smooth-schooltime-red/yellow/blue | 18 in x 225 ft | CA | 6 EA of 1 EA | $70.33 | Buy Now! |
| | 982114 | Specialty exam table paper-pediatric prints-14 in. crepe-pediatric combo/multi color | 14 in x 125 ft | CA | 12 EA of 1 EA | $66.58 | Buy Now! |
| | 982118 | Specialty exam table paper-pediatric prints-18 in. crepe-pediatric combo/multi color | 18 in x 125 ft | CA | 12 EA of 1 EA | $72.00 | Buy Now! |
| | 983818 | Specialty exam table paper-pediatric prints-18 in. smooth-cat in the hat | 18 in x 225 ft | CA | 6 EA of 1 EA | $82.60 | Buy Now! |