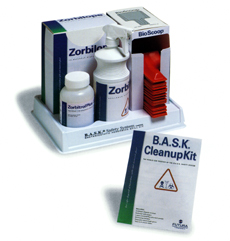 Kensington Medical Holdings LL

Bask Biohazard Spill Kits
Futura Medical's BASK systems provide everything needed for effective handling and disposal of biohazardous spills. Available in single and multi-use configurations, BASK kits satisfy the U.S. Occupational Safety and Health Act requirement for spill kits that must be present within all healthcare environments, including hospitals, laboratories, physician practices, ambulances, etc.
Unique Features and Benefits:
ZORBITROL PLUS POWDER
This highly absorbent powder quickly solidifies liquid spills into a solid and manageable gel-like consistency.
BIO SCOOP WITH SCRAPER
Easy to use disposable scoop with its own detachable scraper eliminates direct contact with biohazardous waste.
ZORBICIDE PLUS SPRAY
Disinfects surfaces quickly at room temperature.
ZORBILOPE ENVELOPE
Ingeniously designed, semi-rigid, sealable envelope provides safe disposal of biohazardous waste.
| | | | | | | |
| --- | --- | --- | --- | --- | --- | --- |
| | Catalog Number | Description | Packaging | Units Per Package | Price | |
| | 8000F | Zorbitrol Plus Absorbent Powder, 220 gm., 6 ea/cs | CA | 6 EA of 1 EA | $80.85 | Buy Now! |
| | 8100 | BioScoops Disposable Scoop w/ Scraper, 200 ea/cs | CA | 200 EA of 1 EA | $108.30 | Buy Now! |
| | 8200F | Zorbilopes Disposal Envelopes, 200 ea/cs | CA | 200 EA of 1 EA | $111.50 | Buy Now! |
| | 8300 | BASK Safety Kit for Multiple Spills, 4 ea/cs | CA | 4 EA of 1 EA | $299.80 | Buy Now! |
| | H-2500 | BASKIt Single-Use Cleanup kit, 36 ea/cs | CA | 36 EA of 1 EA | $279.90 | Buy Now! |