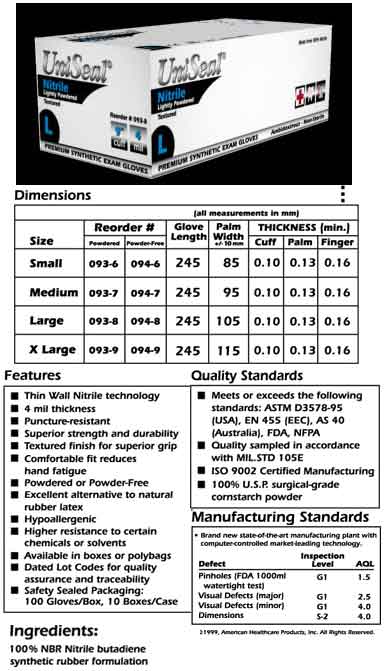 American Healthcare, Inc.

Uniseal Nitrile Exam Gloves
UniSeal Nitrile Exam Gloves are made from 100% soft nitrile, a synthetic compound thats completely free of skin irritating rubber proteins. These leading-edge gloves conform to your hands far more comfortably than other non-latex alternatives, such as vinyl so you get cool, dry, precise fit with far less hand fatigue. UniSeal Nitrile Exam Glows are also far more resistant to punctures and tears than either latex or vinyl and stand up to a variety of splashed chemicals, solvents, oils. and bases.
| | | | | | | |
| --- | --- | --- | --- | --- | --- | --- |
| | Catalog Number | Description | Packaging | Units Per Package | Price | |
| | 068-8 | NITRILE POWDER FREE EXAM GLOVE 4MIL | CA | 10 BX of 100 EA | $79.33 | Buy Now! |
| | 094-10 | UniSeal- NITRILE POWDER-FREE EXAM GLOVE -- SIZE- XX-LARGE | CA | 10 BX of 100 EA | $108.13 | Buy Now! |
| | 094-5 | UniSeal- NITRILE POWDER-FREE EXAM GLOVE -- SIZE- X-SMALL | CA | 10 BX of 100 EA | $108.13 | Buy Now! |
| | 774-8 | BLACK NITRILE POWDER FREE EXAM GLOVE | CA | 10 BX of 100 EA | $104.00 | Buy Now! |
| | 777 | BLACK SEAL POWDER FREE 6MIL 9" CUFF | CA | 10 BX of 100 EA | $116.00 | Buy Now! |