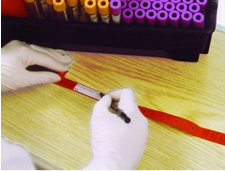 Precision Dynamics, Inc.

Securline Blood Band
The Securline Blood Band features 22 pre-serialized labels providing a quick and easy means for medical personnel to track and identify specimens and crossmatch them to the correct patient. Medical personnel handwrite the patient data on the large label of the wristband. When removed, the label leaves a "carbonless copy" of each patient's information on the wristband. The Securline Blood Band's closure is easily snapped together providing medical personnel greater ease of use versus other styles of blood bands. To reduce the likelihood of human error in mismatching blood specimens, Securline Blood Bands have both alpha and numeric serialization.
| | | | | | | |
| --- | --- | --- | --- | --- | --- | --- |
| | Catalog Number | Description | Packaging | Units Per Package | Price | |
| | 2403-14-PDB | SECURLINE BLOODBAND-- 14 SMALL PEEL OFF LABELS PROVIDE QUIK WAY TO TRACK IDENTIFY | BX | 150 EA of 1 EA | $289.21 | Buy Now! |
| | 2403-16-PDB | SECURLINE BLOODBAND-- 14 SMALL PEEL OFF LABELS PROVIDE QUIK WAY TO TRACK IDENTIFY | BX | 150 EA of 1 EA | $331.11 | Buy Now! |
| | 2403-22-PDB | SECURLINE BLOODBAND-- 14 SMALL PEEL OFF LABELS PROVIDE QUIK WAY TO TRACK IDENTIFY | BX | 150 EA of 1 EA | $289.22 | Buy Now! |