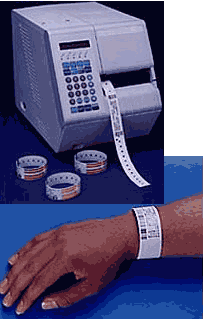 Precision Dynamics, Inc.

Compuband Direct Thermal (bar Code Bands)
Computer-generated CompuBand printing provides the highest quality bar code for scanning and accurate identification. (Direct thermal printers use heat to activate a heat-sensitive thermal coating on the bands print surface). Wristbands print in mere seconds, ensuring a quick and easy on-line admissions process. Tamperproof and secure lanyard snap closure provides maximum security. Choose from three styles.
| | | | | | | |
| --- | --- | --- | --- | --- | --- | --- |
| | Catalog Number | Description | Packaging | Units Per Package | Price | |
| | 7043-11-PDH | COMPUBAND,DIRECT THERMAL,ADULT,1 IN CORE, 5 IN DIA | BX | 200 EA of 1 EA | $95.16 | Buy Now! |
| | 7043-13-PDH | COMPUBAND,DIRECT THERMAL,ADULT,1 IN CORE, 5 IN DIA | BX | 200 EA of 1 EA | $95.16 | Buy Now! |
| | 7043-14-PDH | COMPUBAND,DIRECT THERMAL,ADULT,1 IN CORE, 5 IN DIA | BX | 200 EA of 1 EA | $95.16 | Buy Now! |
| | 7043-15-PDH | COMPUBAND,DIRECT THERMAL,ADULT,1 IN CORE, 5 IN DIA | BX | 200 EA of 1 EA | $95.16 | Buy Now! |
| | 7043-16-PDH | COMPUBAND,DIRECT THERMAL,ADULT,1 IN CORE, 5 IN DIA | BX | 200 EA of 1 EA | $95.16 | Buy Now! |
| | 7043-17-PDH | COMPUBAND,DIRECT THERMAL,ADULT,1 IN CORE, 5 IN DIA | BX | 200 EA of 1 EA | $95.16 | Buy Now! |
| | 7046-11-PDL | SCANBAND 1'' CORE, 200 BAND - WHITE | BX | 500 EA of 1 EA | $154.38 | Buy Now! |
| | 7046-13-PDL | SCANBAND 1'' CORE, 200 BAND - BLUE | BX | 500 EA of 1 EA | $154.38 | Buy Now! |
| | 7046-14-PDL | SCANBAND 1'' CORE, 200 BAND - YELLOW | BX | 500 EA of 1 EA | $154.38 | Buy Now! |
| | 7046-15-PDL | SCANBAND 1'' CORE, 200 BAND - GREEN | BX | 500 EA of 1 EA | $154.38 | Buy Now! |
| | 7046-16-PDL | SCANBAND 1'' CORE, 200 BAND - RED | BX | 500 EA of 1 EA | $154.38 | Buy Now! |
| | 7046-17-PDL | SCANBAND 1'' CORE, 200 BAND - ORANGE | BX | 500 EA of 1 EA | $154.38 | Buy Now! |
| | 7052-16-PDH | SCANBAND, ADULT,1 IN.CORE,5 IN.DIA. | BX | 200 EA of 1 EA | $79.53 | Buy Now! |
| | 7055-11-PDO | COMPUBAND,DIRECT THERMAL,ADULT,1 IN CORE, 4 IN DIA | BX | 340 EA of 1 EA | $154.38 | Buy Now! |
| | 7055-13-PDO | COMPUBAND,DIRECT THERMAL,ADULT,1 IN CORE, 4 IN DIA | BX | 340 EA of 1 EA | $154.38 | Buy Now! |
| | 7055-14-PDO | COMPUBAND,DIRECT THERMAL,ADULT,1 IN CORE, 4 IN DIA | BX | 340 EA of 1 EA | $154.38 | Buy Now! |
| | 7055-15-PDO | COMPUBAND,DIRECT THERMAL,ADULT,1 IN CORE, 4 IN DIA | BX | 340 EA of 1 EA | $154.38 | Buy Now! |
| | 7055-16-PDO | COMPUBAND,DIRECT THERMAL,ADULT,1 IN CORE, 4 IN DIA | BX | 340 EA of 1 EA | $154.38 | Buy Now! |
| | 7055-17-PDO | COMPUBAND,DIRECT THERMAL,ADULT,1 IN CORE, 4 IN DIA | BX | 340 EA of 1 EA | $154.38 | Buy Now! |
| | 7056-11-PDH | COMPUBAND BIG, DIRECT THERMAL, ADULT, 1 IN CORE 5 IN DIA | BX | 200 EA of 1 EA | $99.84 | Buy Now! |
| | 7341-11-PDJ | COMPUBAND,DIRECT THERMAL, ADULT, 3 IN CORE, 5.5 IN DIA | BX | 250 EA of 1 EA | $110.78 | Buy Now! |
| | 7341-15-PDJ | COMPUBAND,DIRECT THERMAL, ADULT, 3 IN CORE, 5.5 IN DIA | BX | 250 EA of 1 EA | $110.78 | Buy Now! |
| | 7342-11-PDM | COMPUBAND, DIRECT THERMAL, ADULT, 3 IN CORE, 8 IN DIA | BX | 500 EA of 1 EA | $211.72 | Buy Now! |