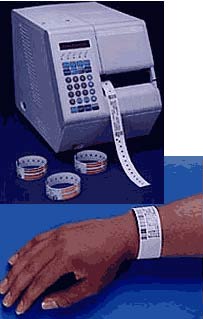 Precision Dynamics, Inc.

Compuband Thermal Transfer (bar Code Bands)
Computer-generated CompuBand provides the highest quality bar code for scanning and accurate identification. Thermal transfer printers use heat to transfer ink from a ribbon to the bands print area. Tamperproof and secure lanyard snap closure provides maximum security. Choose from two styles.
| | | | | | | |
| --- | --- | --- | --- | --- | --- | --- |
| | Catalog Number | Description | Packaging | Units Per Package | Price | |
| | 7025-11-PDM | Adt/Ped 3/4in W InfoArea 3/4x3 1/8 White | CA | 500 BX of 1 EA | $180.39 | Buy Now! |
| | 7025-13-PDM | Adlt/Ped 3/4in W InfoArea 3/4x3 1/8 Blue | CA | 500 BX of 1 EA | $180.39 | Buy Now! |
| | 7025-14-PDM | Adt/Ped 3/4in W InfoArea 3/4x3 1/8Yellow | CA | 500 BX of 1 EA | $180.39 | Buy Now! |
| | 7025-15-PDM | Adt/Ped 3/4in W InfoArea 3/4x3 1/8 Green | CA | 500 BX of 1 EA | $180.39 | Buy Now! |
| | 7025-16-PDM | Adult/Ped 3/4in W InfoArea 3/4x3 1/8 Red | CA | 500 BX of 1 EA | $180.39 | Buy Now! |
| | 7025-17-PDM | Adt/Ped 3/4in W InfoArea 3/4x3 1/8Orange | CA | 500 BX of 1 EA | $180.39 | Buy Now! |