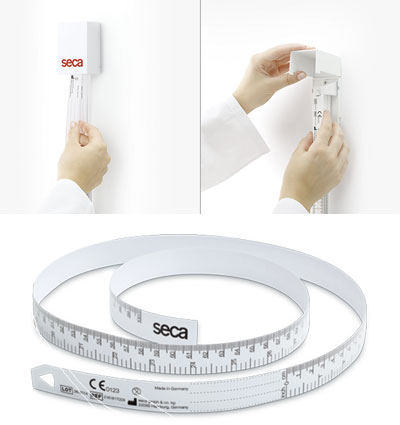 Seca Corp.

Disposable Measuring Tape With Practical Wall Disp
Disposable measuring tape of high-quality paper can reduce potential transmission of germs.
Uncomplicated removal of measuring tape for immediate use.
At hand at all times from exclusive wall dispenser.
Extra space to write down name, height, weight and date.
The measuring tape for daily use.
Our experts are constantly striving to make your routine work as simple as possible. That019s why seca now offers the environmentally friendly and high-quality disposable measuring tape seca 218 with a practical wall dispenser for improved hygienic conditions. Now you have the desired measuring tape at hand when you need it. The small, space-saving wall dispenser is easy to install and to refill. seca 218 contains a designated space for noting the patient019s name and measurements.
The seca 218 is available as a cm or cm/inch variety and in a pack of 500 (with dispenser) or 1000 pieces (without dispenser).
| | | | | | | |
| --- | --- | --- | --- | --- | --- | --- |
| | Catalog Number | Description | Packaging | Units Per Package | Price | |
| | 2181817009 | pediatric measuring tape, paper, in/cm, 1,000 pcs refill | PK | 1 BX of 1000 EA | $249.50 | Buy Now! |
| | 2181817049 | starter kit: 25 tapes, in/cm with wall dispenser | PK | 1 BX of 25 EA | $69.81 | Buy Now! |
| | 2181817059 | 500 measure tapes, in/cm with wall dispenser | PK | 1 BX of 50 EA | $149.50 | Buy Now! |