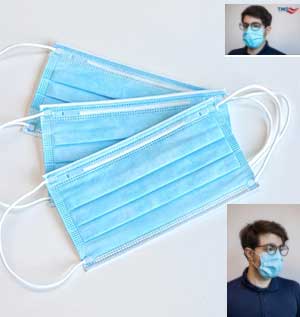 TAIJI Medical Supplies

Disposable Face Masks
TAIJI Medical Supplies single-use face masks are designed to be protective and comfortable. They are wider than the average mask, allowing them to fit more comfortably on a broader range of individuals. Due to this improved design, the masks provide more coverage, reducing the gap between the edge of the mask and the ears. The nose bridge is built with higher ductility, allowing it to bend more easily and stay in place without discomfort. The ear loops on our masks are created with a thicker, more comfortable material that has been tested to stretch to two-and-a-half times the original length without losing elasticity.
Features:
50 Masks per Box
Engineered with three layers of protection
Hypo-allergenic, soft, non-woven polypropylene outer layers
Melt-blown proprietary material inner layer for improved filtration
Latex free
Single-use
17.5 cm 0.5 cm (Length) x 9.0 cm 0.5 cm (Width)
Over-the-counter (OTC) use
100% Made in USA
Additional Information:
This mask is intended to be used as directed.
This mask is not for use in a clinical setting where the infection risk level through inhalation exposure is high. Non-sterile.
Not intended for use as a surgical mask or to provide liquid barrier protection.
Keep away from open flames or intense heat sources.
Not intended to be used or worn by children.
Always consult your doctor or medical physician any time you have a question about your health including whether a mask is right for you.