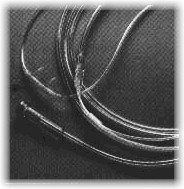 Salter Labs, Inc.

Cannulas Salter-style Adult Latex Free
Salter-Style Adult
Cannulas
The "Micro" Cannula (for use with 3 lpm or less of oxygen) provides superior comfort for the active, low-flow user.
Features Benefits
Unique patented, anatomically correct design
Provides a natural fit for better comfort
Curved, tapered nasal prongs
Better anatomical fit for long term use
Three-channel, crush-resistant safety tubing
Uninterrupted flow of oxygen
The "diminutive" streamlined design and clear material is almost invisible on the skin.
Eliminates unnecessary material and weight; creates feather-light comfort
Cannulas
Today, low-flow oxygen therapy applies to people still in the mainstream of life. Because of this, cosmetics is an even more important factor affecting patient compliance. People want the most unobtrusive means of oxygen delivery when at work or out and about. They have always wanted the most comfortable alternative.
Now get both with the Salter 1616 "Micro" Cannula.
The Salter 1616 "Micro" Cannula
Clear, lightweight cannula with unique one piece anatomical design, eliminates the need for flap which can cause irritation, providing maximum patient comfort. Over-the-ear style provides secure positioning, allowing complete freedom of movement. Provided with three-channel safety tubing.
| | | | | | | | |
| --- | --- | --- | --- | --- | --- | --- | --- |
| | Catalog Number | Description | Size | Packaging | Units Per Package | Price | |