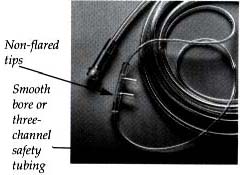 Salter Labs, Inc.

Cannula Salter-style Adult - Latex Free
Salter-Style Adult
Cannulas
Salter's unique, patented design results in greater patient comfort
Features Benefits
Anatomically curved to fit upper lip
Eliminates flap or ridge which can cause irritation
Curved, tapered nasal prongs
Improved anatomical fit
Over the ear style
Secure positioning
Three-channel safety tubing
Uninterrupted flow of oxygen
Soft, lightweight, clear material
Better comfort for long-term use. Does not interfere with patient observation
Wrap around, "Anti-Roll" Feature
Works with the anatomy rather than against it...A Salter Innovation.
Salter-Style Adult Cannula 1600
Clear, lightweight cannula with unique one piece anatomical design. Eliminates the need for flap, which can cause irritation. The result is maximum patient comfort. Over-the-ear style ensures secure positioning, allowing complete freedom of movement. Provided with three-channel safety tubing or smooth bore tubing in lengths from 4 to 100 feet. Special lengths available.
Adult Conventional Cannula 1056
Conventional cannula with non-flared tips. Made of soft disposable material. Adjustable tubing fits comfortably over the ears to hold the cannula firmly in place. Provided with standard smooth bore tubing in 7' or 16' lengths. Special lengths available. See price list for details.
| | | | | | | | |
| --- | --- | --- | --- | --- | --- | --- | --- |
| | Catalog Number | Description | Size | Packaging | Units Per Package | Price | |
| | 1057-7-50 | Conventional cannula without supply tube Safety Channel | | CA | 50 EA of 1 EA | $45.00 | Buy Now! |
| | 1063-16-50 | Conventional cannula with 16' supply tube Safety Channel | | CA | 50 EA of 1 EA | $84.06 | Buy Now! |
| | 1068-16-50 | Conventional cannula with 16' supply tube Smooth Bore | | CA | 50 EA of 1 EA | $84.06 | Buy Now! |
| | 1600-1-50 | Adult Cannula with 1' supply tube Safety Channel | | CA | 50 EA of 1 EA | $47.64 | Buy Now! |
| | 1600-10-50 | Adult Cannula with 10' supply tube Safety Channel | | CA | 50 EA of 1 EA | $62.58 | Buy Now! |
| | 1600-100-10 | Adult Cannula with 100' supply tube Safety Channel | | CA | 10 EA of 1 EA | $98.83 | Buy Now! |
| | 1600-12-50 | Adult Cannula with 12' supply tube Safety Channel | | CA | 50 EA of 1 EA | $70.39 | Buy Now! |
| | 1600-13-50 | Adult Cannula with 13' supply tube Safety Channel | | CA | 50 EA of 1 EA | $75.08 | Buy Now! |
| | 1600-14-50 | Adult Cannula with 14' supply tube Safety Channel | | CA | 50 EA of 1 EA | $78.20 | Buy Now! |
| | 1600-15-50 | Adult Cannula with 15' supply tube Safety Channel | | CA | 50 EA of 1 EA | $82.11 | Buy Now! |
| | 1600-16-50 | Adult Cannula with 16' supply tube Safety Channel | | CA | 50 EA of 1 EA | $86.02 | Buy Now! |
| | 1600-20-25 | Adult Cannula with 20' supply tube Safety Channel | | CA | 25 EA of 1 EA | $60.81 | Buy Now! |
| | 1600-21-25 | Adult Cannula with 21' supply tube Safety Channel | | CA | 25 EA of 1 EA | $62.78 | Buy Now! |
| | 1600-24-25 | Adult Cannula with 24' supply tube Safety Channel | | CA | 25 EA of 1 EA | $68.63 | Buy Now! |
| | 1600-25-25 | Adult Cannula with 25' supply tube Safety Channel | | CA | 25 EA of 1 EA | $70.59 | Buy Now! |
| | 1600-30-20 | Adult Cannula with 30' supply tube Safety Channel | | CA | 20 EA of 1 EA | $68.28 | Buy Now! |
| | 1600-35-20 | Adult Cannula with 35' supply tube Safety Channel | | CA | 20 EA of 1 EA | $76.09 | Buy Now! |
| | 1600-4-50 | Adult Cannula with 4' supply tube (ideal for strollers and portable units) Safety Channel | | CA | 50 EA of 1 EA | $49.69 | Buy Now! |
| | 1600-40-20 | Adult Cannula with 40' supply tube Safety Channel | | CA | 20 EA of 1 EA | $83.91 | Buy Now! |
| | 1600-50-20 | Adult Cannula with 50' supply tube Safety Channel | | CA | 20 EA of 1 EA | $99.53 | Buy Now! |
| | 1600-75-15 | Adult Cannula with 75' supply tube Safety Channel | | CA | 15 EA of 1 EA | $108.94 | Buy Now! |
| | 1600-9-50 | Adult Cannula with 9' supply tube Safety Channel | | CA | 50 EA of 1 EA | $58.67 | Buy Now! |
| | 1650-10-50 | Adult Cannula with 10' supply tube Smooth Bore | | CA | 50 EA of 1 EA | $62.58 | Buy Now! |
| | 1650-100-10 | Adult Cannula with 100' supply tube Smooth Bore | | CA | 10 EA of 1 EA | $98.83 | Buy Now! |
| | 1650-12-50 | Adult Cannula with 12' supply tube Smooth Bore | | CA | 50 EA of 1 EA | $70.39 | Buy Now! |
| | 1650-13-50 | Adult Cannula with 13' supply tube Smooth Bore | | CA | 50 EA of 1 EA | $75.08 | Buy Now! |
| | 1650-14-50 | Adult Cannula with 14' supply tube Smooth Bore | | CA | 50 EA of 1 EA | $78.20 | Buy Now! |
| | 1650-15-50 | Adult Cannula with 15' supply tube Smooth Bore | | CA | 50 EA of 1 EA | $82.11 | Buy Now! |
| | 1650-16-50 | Adult Cannula with 16' supply tube Smooth Bore | | CA | 50 EA of 1 EA | $86.02 | Buy Now! |
| | 1650-20-25 | Adult Cannula with 20' supply tube Smooth Bore | | CA | 25 EA of 1 EA | $60.81 | Buy Now! |
| | 1650-21-25 | Adult Cannula with 21' supply tube Smooth Bore | | CA | 25 EA of 1 EA | $62.78 | Buy Now! |
| | 1650-24-25 | Adult Cannula with 24' supply tube Smooth Bore | | CA | 25 EA of 1 EA | $68.63 | Buy Now! |
| | 1650-25-25 | Adult Cannula with 25' supply tube Smooth Bore | | CA | 25 EA of 1 EA | $70.59 | Buy Now! |
| | 1650-30-20 | Adult Cannula with 30' supply tube Smooth Bore | | CA | 20 EA of 1 EA | $68.28 | Buy Now! |
| | 1650-35-20 | Adult Cannula with 35' supply tube Smooth Bore | | CA | 20 EA of 1 EA | $76.09 | Buy Now! |
| | 1650-4-50 | Adult Cannula with 4' supply tube (ideal for strollers and portable units) Smooth Bore | | CA | 50 EA of 1 EA | $49.69 | Buy Now! |
| | 1650-40-20 | Adult Cannula with 40' supply tube Smooth Bore | | CA | 20 EA of 1 EA | $83.91 | Buy Now! |
| | 1650-50-20 | Adult Cannula with 50' supply tube Smooth Bore | | CA | 20 EA of 1 EA | $99.53 | Buy Now! |
| | 1650-7-50 | Clear cannula with 7' supply tube Smooth Bore | | CA | 50 EA of 1 EA | $57.50 | Buy Now! |
| | 1650-75-15 | Adult Cannula with 75' supply tube Smooth Bore | | CA | 15 EA of 1 EA | $108.94 | Buy Now! |
| | 1650-9-50 | Adult Cannula with 9' supply tube Smooth Bore | | CA | 50 EA of 1 EA | $58.67 | Buy Now! |