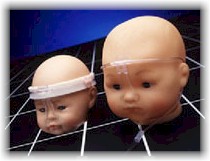 Salter Labs, Inc.

Cannula Over-the Ear,above- Latex Free
Comfort Care
Head Cannula
A series of products for adult, pediatric and infant patients. Revolutionary design allows for supplemental oxygen delivery with increased patient comfort. Unobtrusive appearance make this the product of choice for the active, restless, and hard to fit patient.
Features Benefits
Unique adjustable Comfort Care Head Cannula
Helps eliminate sores over the ears, cheeks and under the nose
Versatile tubing connection front or rearward placement
Comfortable fit to enhance use in a variety of applications
Lightweight, soft material
Helps to reduce necrosis or skin irritation
Can be used while wearing eyeglasses
Less conspicuous, encourages greater compliance for the self conscious patient
Available in three sizes
Gives care provider full spectrum of patient application
May be worn over-the ear or above the ears
Resists dislodging during sleep, thus eliminating patient anxiety
Variety of uses. . . Hospital, Skilled Nursing Facility, Homecare, Clinic
Comfort Care Head Cannula
Pictured to the right are models specifically designed for comfort and ease of fit on pediatric and infant patients. Available with a soft headband to hold the cannula in place. A unique design of self securing nasal prongs to maintain optimal oxygen delivery. A solution for difficult, active or restless "Little Patients".
| | | | | | | | |
| --- | --- | --- | --- | --- | --- | --- | --- |
| | Catalog Number | Description | Size | Packaging | Units Per Package | Price | |