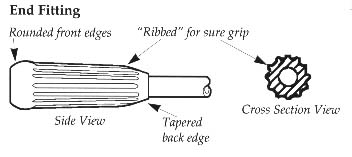 Salter Labs, Inc.

O2 Supply Tubing 3 Channel - Latex Free
Three Channel
Oxygen Supply Tubing
Superior safety due to crush-resistant internal wall design...a Salter innovation.
Features Benefits
Three-channel safety tubing
Oxygen supply cannot be occluded or interrupted
When uncoiled, tubing remains straight
Virtually eliminates "torque" or pull on cannula
No "memory", clear tubing
Will not coil-up on floor. More aesthetically pleasing
Innovative connector design. "Ribbed" end piece with rounded and tapered edges
Easy attachment to all fittings. Helps to eliminate entanglement with furniture or door jams. No square edges.
2002 Three-Channel Oxygen Supply Tubing
Special design has three inside channels that help prevent the tubing from becoming occluded. Ideal for home patients where long lengths can cause a potential kinking problem. Available in lengths from 4' to 100'. Special or custom lengths available...a Salter service oriented benefit.
Note: Oxygen supply tubing also available in smooth bore configuration.
NEW, redesigned end fittings "ribbed" for sure grip
rounded front with tapered rear edges
Innovative Tubing "End Fitting"*
Vinyl material with sufficient clarity to view patency
Designed with "Ribbed Body" to permit easy gripping when making connections
Rounded and tapered edges to prevent snagging or catching on various surfaces
| | | | | | | | |
| --- | --- | --- | --- | --- | --- | --- | --- |
| | Catalog Number | Description | Size | Packaging | Units Per Package | Price | |
| | 1018 | 1/8 in. I.D. WHITE TUBING 200 FEET | 200' | BX | 1 BX of 200 FT | $41.95 | Buy Now! |
| | 2004-4-50 | 4' OXYGEN CONNECTING TUBE Safety Channel | 4' | CA | 50 EA of 1 EA | $37.97 | Buy Now! |
| | 2009-9-50 | 9' OXYGEN SUPPLY TUBE Safety Channel | 9' | CA | 50 EA of 1 EA | $48.91 | Buy Now! |
| | 2075-75-15 | 75' OXYGEN SUPPLY TUBE Safety Channel | 75' | CA | 15 EA of 1 EA | $106.02 | Buy Now! |
| | 2099-50-20 | 50' safety oxygen supply tube with one molded connector end, one female thread grip end | 50' | CA | 50 EA of 1 EA | $100.31 | Buy Now! |
| | 2099-7-50 | 7' safety oxygen supply tube with one molded connector end, one female thread grip end | 7' | CA | 50 EA of 1 EA | $40.31 | Buy Now! |
| | 2500-100-10 | 100 OXYGEN SUPPLY TUBE Smooth Bore | 100' | CA | 10 EA of 1 EA | $96.88 | Buy Now! |
| | 2504-4-50 | 4' OXYGEN CONNECTING TUBE Smooth Bore | 4' | CA | 50 EA of 1 EA | $38.59 | Buy Now! |
| | 2509-9-50 | 9' OXYGEN SUPPLY TUBE Smooth Bore | 9' | CA | 50 EA of 1 EA | $48.91 | Buy Now! |
| | 2510-10-50 | 10' OXYGEN SUPPLY TUBE Smooth Bore | 10' | CA | 50 EA of 1 EA | $52.81 | Buy Now! |
| | 2514-14-50 | 14' OXYGEN SUPPLY TUBE Smooth Bore | 14' | CA | 50 EA of 1 EA | $68.44 | Buy Now! |
| | 2515-15-50 | 15' OXYGEN SUPPLY TUBE Smooth Bore | 15' | CA | 50 EA of 1 EA | $72.34 | Buy Now! |
| | 2520-20-25 | 20' OXYGEN SUPPLY TUBE Smooth Bore | 20' | CA | 25 EA of 1 EA | $55.94 | Buy Now! |
| | 2521-21-25 | 21' OXYGEN SUPPLY TUBE Smooth Bore | 21' | CA | 25 EA of 1 EA | $57.89 | Buy Now! |
| | 2530-30-20 | 30' OXYGEN SUPPLY TUBE Smooth Bore | 30' | CA | 20 EA of 1 EA | $64.38 | Buy Now! |
| | 2535-35-20 | 35' OXYGEN SUPPLY TUBE Smooth Bore | 35' | CA | 20 EA of 1 EA | $72.19 | Buy Now! |
| | 2540-40-20 | 40' OXYGEN SUPPLY TUBE Smooth Bore | 40' | CA | 20 EA of 1 EA | $80.00 | Buy Now! |
| | 2575-75-15 | 75' OXYGEN SUPPLY TUBE Smooth Bore | 75' | CA | 15 EA of 1 EA | $106.02 | Buy Now! |
| | 9997-7-50 | 7' safety oxygen supply tube with female thread grip on both ends | 7' | CA | 50 EA of 1 EA | $41.09 | Buy Now! |
| | 9998-7-50 | 7' safety oxygen supply tube with male thread grip on both ends | 7' | CA | 50 EA of 1 EA | $41.09 | Buy Now! |
| | 9999-7-50 | 7' safety oxygen supply tube with one male thread grip end, one female thread grip end | 7' | CA | 50 EA of 1 EA | $41.09 | Buy Now! |