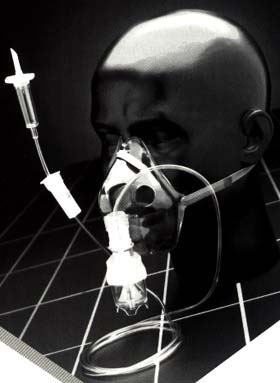 Salter Labs, Inc.

Small Vol Nebulizer W/med Adm Port
Now Available...
From Salter Labs
Small Volume Nebulizer with Medication Administration Port
Single Patient Use-Disposable
For long-term delivery procedures
Features Benefits
Medication administration port with pre-attached, leak-free plug
Allows for continuous feeding from large reservoir bag. Port may be plugged in when usage not required
Available with aerosol mask or for in-line therapy
Added capability and versatility simplifies treatment requirements
Nebulizes 3cc within 10 minutes in horizontal or vertical position
Allows patient to be in a comfortable position for treatment
One-eighth turn screw-on cap and vial
Easy to assemble and disassemble, provides a leak-proof seal
Consistent output and optimized performance
Ensures reliability and dependability for all clinical requirements
Variety of uses...Hospital, Nursing Home, Homecare
Small Volume Nebulizer* with Medication Administration Port
Small Volume Nebulizer incorporates all the unique features and benefits of the highly acclaimed No. 8900 series nebulizer. NOW, it is available with the added capability and versatility for long-term medication delivery.
| | | | | | | | |
| --- | --- | --- | --- | --- | --- | --- | --- |
| | Catalog Number | Description | Size | Packaging | Units Per Package | Price | |
| | 8931-0-10 | Nebulizer: w/ port & plug | | CA | 10 EA of 1 EA | $47.34 | Buy Now! |
| | 8936-7-10 | Mask Kit, Pediatric: Nebulizer w/ port & plug, pediatric elastic strap style aerosol mask, 7' supply tube | | CA | 10 EA of 1 EA | $144.22 | Buy Now! |
| | 8936-7-25 | Mask Kit, Pediatric: Nebulizer w/ port & plug, pediatric elastic strap style aerosol mask, 7' supply tube | | CA | 25 EA of 1 EA | $330.55 | Buy Now! |
| | 8937-7-10 | Full Mask Kit, Pediatric: Nebulizer w/ port & plug, pediatric elastic strap style aerosol mask, 7' supply tube with sterile fluid administration set | | CA | 10 EA of 1 EA | $250.47 | Buy Now! |
| | 8937-7-25 | Full Mask Kit, Pediatric: Nebulizer w/ port & plug, pediatric elastic strap style aerosol mask, 7' supply tube with sterile fluid administration set | | CA | 25 EA of 1 EA | $596.17 | Buy Now! |
| | 8945-7-10 | In-Line Kit: Nebulizer w/ port & plug, 22mm O.D. x 22mm O.D. x 18mm I.D. T, 6 in. reservoir tube, 7' supply tube | | CA | 10 EA of 1 EA | $90.31 | Buy Now! |
| | 8945-7-25 | In-Line Kit: Nebulizer w/ port & plug, 22mm O.D. x 22mm O.D. x 18mm I.D. T, 6 in. reservoir tube, 7' supply tube | | CA | 25 EA of 1 EA | $195.78 | Buy Now! |
| | 8945TG-7-10 | In-Line Kit: Nebulizer w/ port & plug, 22mm O.D. x 22mm O.D. x 18mm I.D. T, 6 in. reservoir tube, 7' supply tube with female thread-grip connector | | CA | 10 EA of 1 EA | $91.88 | Buy Now! |
| | 8945TG-7-25 | In-Line Kit: Nebulizer w/ port & plug, 22mm O.D. x 22mm O.D. x 18mm I.D. T, 6 in. reservoir tube, 7' supply tube with female thread-grip connector | | CA | 25 EA of 1 EA | $199.69 | Buy Now! |
| | 8949-0-10 | Fluid Administration Set: Sterile, non-pyrogenic, for continuous nebulization | | CA | 10 EA of 1 EA | $98.13 | Buy Now! |
| | 8949-0-25 | Fluid Administration Set: Sterile, non-pyrogenic, for continuous nebulization | | CA | 25 EA of 1 EA | $215.31 | Buy Now! |
| | 8954-7-10 | Mask Kit, Adult: Nebulizer w/ port & plug, adult elastic strap style aerosol mask, 7' supply tube | | CA | 10 EA of 1 EA | $98.13 | Buy Now! |
| | 8954-7-25 | Mask Kit, Adult: Nebulizer w/ port & plug, adult elastic strap style aerosol mask, 7' supply tube | | CA | 25 EA of 1 EA | $215.31 | Buy Now! |
| | 8954TG-7-10 | Mask Kit: Nebulizer w/ port & plug, adult elastic strap style aerosol mask, 7' supply tube with female thread-grip connector | | CA | 10 EA of 1 EA | $99.69 | Buy Now! |
| | 8954TG-7-25 | Mask Kit: Nebulizer w/ port & plug, adult elastic strap style aerosol mask, 7' supply tube with female thread-grip connector | | CA | 25 EA of 1 EA | $219.22 | Buy Now! |
| | 8955-7-10 | Full In-Line Kit: Nebulizer w/ port & plug, 22mm O.D. x 22mm O.D. x 18mm I.D. T 6' reservoir tube, 7' supply tube with sterile fluid administration set | | CA | 10 EA of 1 EA | $168.44 | Buy Now! |
| | 8955-7-25 | Full In-Line Kit: Nebulizer w/ port & plug, 22mm O.D. x 22mm O.D. x 18mm I.D. T 6' reservoir tube, 7' supply tube with sterile fluid administration set | | CA | 25 EA of 1 EA | $391.09 | Buy Now! |
| | 8956-7-10 | Full Mask Kit, Adult: Nebulizer w/ port & plug, adult elastic strap style aerosol mask, 7' supply tube with sterile fluid administration set | | CA | 10 EA of 1 EA | $176.25 | Buy Now! |
| | 8956-7-25 | Full Mask Kit, Adult: Nebulizer w/ port & plug, adult elastic strap style aerosol mask, 7' supply tube with sterile fluid administration set | | CA | 25 EA of 1 EA | $410.63 | Buy Now! |