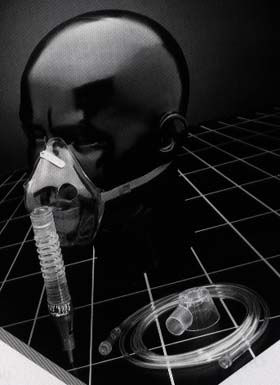 Salter Labs, Inc.

Percent-o2-lock Venturi System
Percent-O2-Lock Venturi System
Single unit variable venturi system delivering accurate concentrations of oxygen (from 24 to 50%) with a single unit.
Features Benefits
Transparent, air-entrainment mask with soft anatomical form
Ideal for long-term users and edentulous patients. Better fit.
Easily adjusted, variable venturi system
Accurate concentrations of oxygen with single unit
Unique, springloaded mechanism locks prescribed concentration in place
Ensures safety and correct oxygen concentrations
Wide, adjustable elastic strap or over-the-ear style available in adult configuration
Fits comfortably in either configurations to hold mask in place
Durable, plastic humidity cup, standard
Allows utilization of nebulizer with mask when prescribed
Salter Percent-O2-Lock Venturi System 8150
The Percent-O2-Lock air entrainment oxygen mask includes a rotating sleeve, opening and closing an air-entrainment window. This provides the ability to deliver seven fixed oxygen concentrations to a spontaneously breathing patient. Concentration levels are easily dialed and locked in. The "dial in" air entrainment assembly is affixed to a standard aerosol mask. A high humidity adapter permits use of a nebulizer with mask if prescribed.
All units are pre-assembled with the dial pre-set at 24%
To change a setting, pull the sleeve back until the spring is completely compressed. Then turn the sleeve to the prescribed setting.
The high humidity adapter fits over and is pushed on until it locks on the post extending away from the tip of the cone. Caution: THE HUMIDIFYING OR NEBULIZING DEVICE MUST BE DRIVEN BY COMPRESSED AIR.
Releasing the sleeve and spring "forces" the sleeve into its setting. The spring also locks the sleeve into place.
| | | | | | | | |
| --- | --- | --- | --- | --- | --- | --- | --- |
| | Catalog Number | Description | Size | Packaging | Units Per Package | Price | |
| | 8054-7-50 | Percent-O2-Lock/trach tee air entrainment system with humidity cup and 7' oxygen supply tube Elastic-Strap Style | | CA | 50 EA of 1 EA | $170.63 | Buy Now! |