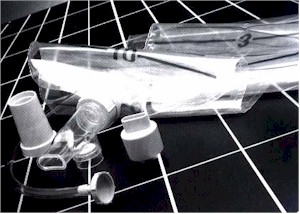 Salter Labs, Inc.

Disposable Spirometer
Disposable Spirometer
The mouthpiece is designed for maximum patient comfort while at the same time incorporating two one-way valves. The valve and the valve at the distal end is a one-way exhalation valve.
This provides optimal patient protection against cross-contamination as well as providing a one-way valve system for taking a variety of other respiratory measurements. The one-way valve system allows the patient to inhale directly through the mouthpiece, thus making the maneuver easier for the patient and increasing the accuracy of the patient effort.
Features Benefits
Versatile applications
Ideal for bedside screening, monitoring, or weaning
Inexpensive, single patient use
Eliminates the threat of cross contamination or expensive sterilization
10 liter calibrated collection bag
Accurate volume measurements with relative ease
Salter, Disposable Spirometer 6600
An accurate, economical, single patient use device with multiple applications.
Salter Disposable Spirometer is used at the bedside to accurately measure pulmonary variables associated with screening, monitoring, and weaning patients. Because of its unique design, Salter Disposable Spirometer replaces the less efficient and non-disposable equipment usually associated with respiratory care. It is neither temperamental nor expensive as are many other volume collection devices. With the Salter Disposable Spirometer, the clinician can easily and repeatably monitor life support system volumes, screen patients for therapy, and have an effective means to wean patients by accurately tracking the physiologic parameters. The Salter Disposable Spirometer can be used to determine the following pulmonary data on most patients: VT, VE, VC, FVC, VC/FVC. End Tidal Sampling, Inspiratory and Expiratory Pressures and even mean expiratory flow can be estimated by using a stop watch. Universal adapters permit the above to be measured via mouth, Endotracheal Tube, Tracheostomy Tube, Intermittent Positive Pressure Breathing Machine (IPPB) or Ventilator manifold and Tubing.
| | | | | | | | |
| --- | --- | --- | --- | --- | --- | --- | --- |
| | Catalog Number | Description | Size | Packaging | Units Per Package | Price | |
| | 6002-0-25 | Manometer connecting pressure cap with 14 in. tubing and relief port | | CA | 25 EA of 1 EA | $35.47 | Buy Now! |
| | 6002-0-50 | Manometer connecting pressure cap with 14 in. tubing and relief port | | CA | 50 EA of 1 EA | $50.94 | Buy Now! |
| | 6009-0-25 | Universal Adapter | | CA | 25 EA of 1 EA | $38.09 | Buy Now! |
| | 6009-0-50 | Universal Adapter | | CA | 50 EA of 1 EA | $56.17 | Buy Now! |
| | 6010-0-25 | Mouthpiece connector, mouthpiece to respirometer connector | | CA | 25 EA of 1 EA | $38.09 | Buy Now! |
| | 6010-0-50 | Mouthpiece connector, mouthpiece to respirometer connector | | CA | 50 EA of 1 EA | $56.17 | Buy Now! |
| | 6020-0-25 | Mouthpiece only with double one-way valves | | CA | 25 EA of 1 EA | $56.05 | Buy Now! |
| | 6400-0-25 | 10 liter calibrated collection bag | | CA | 25 EA of 1 EA | $72.73 | Buy Now! |
| | 6400-0-50 | 10 liter calibrated collection bag | | CA | 50 EA of 1 EA | $125.47 | Buy Now! |
| | 6500-0-50 | Disposable spirometer kit, including 6020, 6002, 6009, 6010 | | CA | 50 EA of 1 EA | $195.00 | Buy Now! |
| | 6600-0-50 | Complete disposable spirometer kit, including 6020, 6002, 6009, 6400 | | CA | 50 EA of 1 EA | $238.75 | Buy Now! |